This is one of the best animal moral stories in English for kids. Once upon a time, a huge King Cobra lived in a dense forest. He ate all kinds of creatures like lizards, frogs, bird eggs and other small animals and insects. All night long, he hunted for food. And as soon as the sun rises, he would hide in his hole to sleep.
The Cobra was very lazy and he soon grew fat. As he grew fat, it became difficult for the Cobra to move in and out of his old hole. So, he found himself a new hole which was a huge tree. The only problem was that the tree had a group of ants there at its root. You may also like to read, The Crow And The Snake.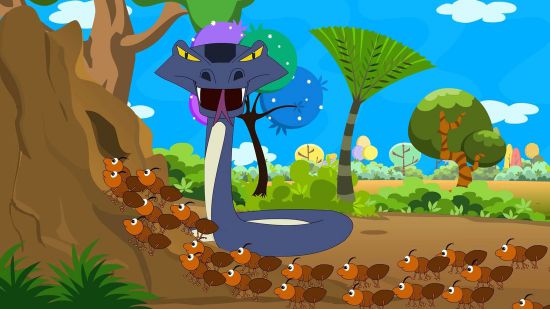 Image Source@ eumindtheatre.weebly.com. So, the Cobra went to the anthill and ordered them to live somewhere else as he was considered to be the King of the forest. The other animals that were around them were very frightened. But the ants did not pay any attention to his threats at all.
Soon, they swarmed all over the body of the Cobra, stinging and biting him. Their sting caused unbearable pain to the Cobra. He wriggled with pain and tried to keep ants away from his body but he could not do so. After some time, the ants went away from the Cobra. The Cobra laid there hurt and wounded.
The Cobra was crying in pain. All the animals who were afraid of him could only pity him. The ants taught King Cobra a great lesson. Also, read The Woodcutter And His Good Deed.
MORAL OF THE STORY: EVE THE STRONG AND THE POWERFUL CANNOT FACE THE SMALL ONES WHEN THEY ARE IN A LARGE NUMBER.
Here is a short visual depiction of one of the animal moral stories in English "The Cobra And The Ants". See the video story below,
Animal Moral Stories In English Video